It is our desire to make the word of God, and it's understanding, available to all who desire it. This page will have the Bible Study Videos from our weekly Bible Study (Wednesday 7pm Facebook Live) with all of the slides the Pastor emphasizes in the weekly lesson.
It is not the design of this page to replace your actual attendance, but it is to quench the thirst of those who are not able to attend. Please respond, download, or print the lessons out for your own personal study. May God continue to bless you, and may you continue to be a blessing. Below are previous Bible Study lessons you can enjoy at your leisure.
Pastor Thomas
Church Etiquette and Protocol.
Understanding the Holy Spirit Pt. 2
Understanding the Holy Spirit Pt. 1
Blessings and Curses
Why We Shouldn't worry Pt 2
Why We Shouldn't worry Pt 1
Proof that God Exists
The links below are PDF versions of the slides for the Bible Study scriptures and notes. Feel free to click and save, or view. Press the back button on your browser to return to the Greater Harvest Website.
Speaking in Tongues Bible Study
God's Answers to Your Questions
Bible Study April 22, 2020
Bible Study April 15th, 2020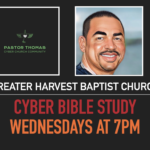 Simply click on the lesson to view, print, or download to your computer
REVELATION SERIES